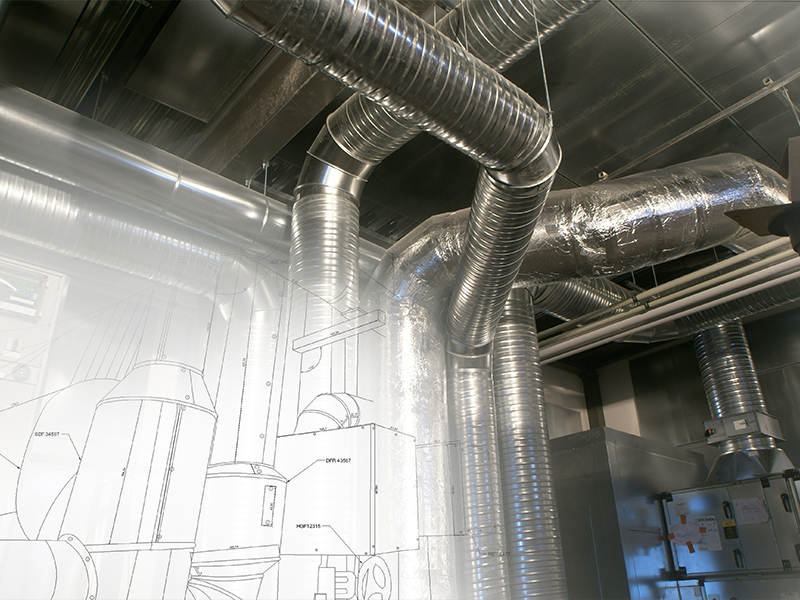 We design HVAC systems that are customized specifically to your needs.
Commercial HVAC Design Services
Your indoor spaces need to be comfortable and healthy environments. The issue is that many commercial HVAC systems are designed with two major goals, to condition the air, and to do so efficiently. This is a difficult balance to achieve which is why many commercial HVAC systems are flawed even before they leave the design phase.
What are the hallmarks of bad commercial HVAC design?
Not doing the math – Many HVAC systems just don't fit the spaces they are supposed to heat or cool. If the space is too small, a larger system costs more to run. If it is too large, the system will have trouble keeping up with changes. This is one of the major issues with commercial HVAC systems and it can be easily circumvented in the design phase. When you choose the right equipment for the space, you get efficient operation and fewer breakdowns.
Not listening to the client – You know your building, what rooms are most often used, its age, places where it just seems hotter or colder all the time. When you're installing a new HVAC system you'll communicate this to your contractor and they should listen. Sure, you aren't an HVAC expert, but that's why you hired the contractor in the first place. Each building is unique and a smart contractor will take these nuances into account when designing your HVAC system.
Forgetting the "V" in HVAC – Heating and cooling is only part of the equation. In fact, how your building is ventilated is arguably the most important part of HVAC design. Ductwork should be large enough to transport conditioned air and they need to be designed in an efficient and logical way. If you're replacing an old system, the contractor should make a thorough assessment of the existing ductwork to make sure it is in good repair and adequate enough to handle the new system
Legacy understands these issues and will install an HVAC system that is reliable and makes sense.
Our skilled technicians at Legacy Mechanical Inc. understand the needs of unique commercial HVAC design for different types of locations like office buildings or retail spaces. That is why we offer tailor-made commercial HVAC designs according to the specific requirements of our clients, their facility, and their employees. This allows us to deliver the best commercial HVAC design, which ensures an energy-efficient and high-performing HVAC system designed for your specific need.
If we are designing for a new building to integrate the HVAC system within the original design or for an existing building where the HVAC system can be retrofitted to complement the typeof the building, our specialized staff works with due diligence across the whole procedure to assist you with selecting the correct HVAC system for your building. At Legacy Mechanical Inc. we have a complete in-house team that will design your commercial HVAC system. We digitally evaluate the loss and gain of heat to develop a commercial HVAC design, which is well suited for your commercial space. Our state-of-the-art HVAC designs combined with our years of experience in the integration and automation of a number of building systems, make Legacy Mechanical Inc. a preferred choice for HVAC system design.
Our skilled technicians have developed HVAC design for a number of residential and commercial buildings throughout Colorado and the continental United States. We have even helped in making Green Building history for the nation's largest Platinum-rated residential facility on the University of Colorado's Boulder Campus. Contact us today to learn more!